SAN DIEGO PARTY BUS RENTAL & CHARTERS
---
Who has the best Party Bus Rental San Diego? San Diego Hotlimos has the newest and most luxurious party buses in San Diego, CA. Our brand new 50 passenger, 35 passenger, and 26 passenger party bus are all Perfectly White limousines and are perfect for any high-end function. Our family business has been providing affordable San Diego party bus rental services for over 10 years.
Our San Diego limo & limo bus rentals are maintained by AA Auto Repair. AA Auto Repair has been in business for over 35 years and we guarantee you that our vehicles are the safest on the road. Our primary expertise guarantees you reliable transportation. We want you to relax and enjoy your friends and family as we drive you in style for your special event. Our bus charter service is available for all events.
We are the only provider of Brand New White Luxury Limos for you. Our party bus rentals come with much more than our competitors! Just look inside one of our posh party buses filled with state of the art accessories. We have pristine and immaculate vehicles for any event needs. Just come and see our vehicles any day of the week…try that with other companies!
We Put The Party In Bus
An extra large dance floor
Safety handlebars throughout
Seatbelts
Personal bar
LCD monitor
Dance Floor
San Diego Birthday party, graduation party, kids limo, wine tasting, beer tasting, 
They cost less! Stretch Limos cost an additional $30,000 to stretch them out. Buses come long and tall!
The "Fun Factor" is through the ruff and adds a bit of mischievous to any age group.
They are accommodating to all your needs.
They provide more bang for the buck! More lights, better stereo equipment, big screen TV's, and much more!
Larger A/C units!
You won't get claustrophobic or less likely to get car sick.
You can dance, walk around, snack bar, restroom, talk with all your guests and they talk to everyone else.
WHY RENT A PARTY BUS?
For starters, limo buses provide extra aisle space, larger dance floor, more amplifiers for greater & better sound quality, more lasers for enhanced presentations, and let us not forget the fun.
Today's party bus rentals come loaded with all the amenities of a traditional limousine except you can stand up and dance the night away, move around, make drinks, relax, tailgate, group party, company Team Building party, Wedding limo, Prom limo, Temecula wine tours, San Diego Micro Brew tour, and did I mention you don't have to crouch over just to get in and out.
Don't let the word "Party" ruin your idea of what a "PARTY BUS" or "LIMO BUS" can bring to your group event. Our vehicles are very elegant and an affordable way to transport your guests with luxury and comfort. Having more room in a PARTY BUS easily trumps smaller stretched limousines.
Before you get any vehicle make sure you explore all of your options. Many companies will prevent you from seeing their vehicles because their pictures are out of date and the A/C doesn't work. Ask any of our customer service representatives the difference today and come take a look at our pristine limos.
A party bus can come in many sizes and styles, but importantly it's the money you save! How can this be? A typical limo conversion costs anywhere from $30 to $50 grand. A typical bus conversion is half that, but exponentially increases the time your guests will have. Give us a call (619) 800-5468 so one of our reservationists can explain the differences and advantages of renting one of our fine affordable party buses.
GREAT PARTY BUS RENTAL IDEAS
Have a night in one of our luxurious party buses and skip the downtown crowd and aim high! We mean, really high….as in North County. North County Booze Cruise offer everything your party needs: fun, smaller venues, your own sanctuary parked in front, with $5 drinks! You will save at least 3 to 500 hundred dollars, and your group will be to stay together without being separated by dense crowds! Ask us about this great group party idea. You will thank us afterward.
Party Bus Winery Tours

Wine Tasting Tours and limo buses have been a staple of the San Diego Community the past 10 years! Temecula winery tour and San Diego Winery Tours offer some of California's finest wines in San Diego's backyard.
Temecula Wine and more important wine tours are a great way to get all your friends you've lost touch with and want to make an effort to put away the computer and actually see the friends and family you care so much about.
Temecula Valley has some of the most beautiful picturesque views. Many people say that a day in the Temecula Valley is like a week-long vacation away from all your troubles.
Make sure you ask us which wineries are right for you, and we will make your wine tasting experience go down as a great moment for you and your closest friends.
Party Bus Brewery Tour

Well not everyone loves wine. In fact, just for that reason San Diego Breweries have just become the United States best and biggest micro-brewery capital. The past four years have put San Diego on the map for BEER and beer tours! Brewery Tours are a great way to get your co-workers together to talk about your boss. If you are the Boss, then it's a great way to keep the conversation focused. Focussed on you being the best boss in the world.
We are happy to do brewery tours Monday through Sunday and offer great discounts on those weekday days. We also have all-inclusive packages but if you are looking to save money just ask about our basic tours. If you are looking at Brew Tours during the week you can avoid a lot of crowding at your favorite breweries.
Cheap San Diego Party Bus Rentals?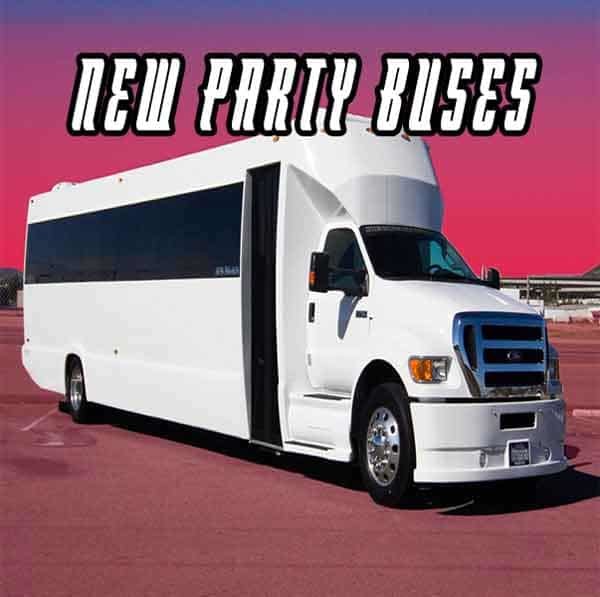 We would be lying to you if we told you are vehicles are "cheap". We definitely have affordable vehicles and we will do everything in our power to figure out a way to make your trip with us within your price range.
Providing safe party bus rentals has its expenses. Everytime our vehicles go out they must be inspected, cleaned, and administered. Insurance is very expensive and averages over $100 per trip, but it is very important us to maintain your safety.
If you have questions regarding any of our services please don't hesitate to ask. We are here for you, your family, and/or your company.
San Diego Wedding Party Bus?
We specialize in wedding limos because we are the only provider of luxury deluxe wedding party buses in San Diego County. Come to see our all white crystal coaches specifically designed for superior elegance and luxury.
We are very popular with our wedding limos for obvious reasons. Our professional drivers will personally greet you and your spouse the day of your special event. Our drivers will be able to help out in any way needed.
We have multilingual drivers able to assist you. Please give us a call and discuss which driver would help you and your guests the most.
Do we perform Bachelorette and Bachelor Parties with our Party Buses in San Diego?
We will even give you a discount for using our Party Buses combined with your wedding party limo. You will save hundreds with our Total Packages.