SAN DIEGO BACHELOR PARTY
TIP: NOT FOR THE WEAK!
San Diego Bachelor Party
ULTIMATE SAN DIEGO BACHELOR PARTY
---
Your Entire Bachelor Party Planned Out
We have the BEST San Diego Bachelor Party & Bachelor Party Ideas for you and your mates! Looking for one single night to send your best friend into marital bliss with a San Diego Bachelor Party? Here at San Diego Hotlimos, we specialize in San Diego bachelor parties to remember. We have made organizing simple so you won't have to! We have teamed up with several local companies to make your night go off as planned and one to remember for the groom. Also, it isn't necessary to use any of our transportation or party bus services to get the most out of this page. We are doing this as a courtesy to you! Start your stag party out right with all of our bachelor party packages. Call now!
T-Minus 72 Hours (10 AM Arrival in San Diego)
Take an Uber to The Keating Hotel (depending on the size of your party, you may want to book additional hotel rooms—even a suite won't hold 10 people). Even with all of the hip luxury hotels in the city, we can assure you that this is the only suite with a birds-eye view of the heart of the San Diego Gaslamp District. The Keating is also known to be tolerant of their guests, but don't get too crazy! If you are looking for something a bit more private and larger I highly recommend AirBnB. They have some stellar houses close to downtown that will fit your whole party for the same price as 3 suites downtown and receive 7 extra beds!
If all of your guests are arriving at the airport around the same time our high-end limos are more than ready to show you and your guests to their new accommodations, courtesy of San Diego Hotlimos and our San Diego Bachelor Party getaway packages.
T-Minus 70 Hours (12 PM Lunch)
One of the greatest things about San Diego is you're never far from an amazing meal. After settling into your suite (and maybe making a whiskey toast to the groom), take a quick walk to Analog Bar across the street for some Mahi Mahi Tacos. Get a side order of Truffle Fries to go with your meal. We are sure this will be a great start to your San Diego Bachelor party.
T-Minus 68 Hours (2 PM Adrenaline Blitz)
Take advantage of the daytime with a trip to K1 Speed for high intensity Go Kart Racing. If you are looking for the city's most famous "dive bar", the Star Bar has the title of "Downtown's Cheapest Drinks" and is located right out the front door of the Keating at 423 E Street.
T-Minus 64 Hours (Dinner on the Ground)
Before your night out, enjoy some incredible pizza at Bar Basic 410 Tenth Ave. by Petco Park. We'll make the not-so-bold statement (because it's been backed up by a ridiculous number of foodie awards) that this place serves San Diego's best pizza. Try the "Meatball". It comes packed with red sauce, mozzarella, meatballs, ricotta, onion, and fresh basil and garlic. You won't be disappointed. While waiting make sure to play some pool on their official length 8-Ball tables.
T-Minus 62 Hours (Drinks on the Roof)
In a city of beautiful weather, the best views are from the top, or second story overlooking all the club goers at Rustic Root. You're going on a bar crawl! We've made sure you'll never have to walk more than 11 minutes/ 0.6 miles between bars but to get to them all, try to cap your time for each at an hour. Remember, as with all bar crawls, it's much more important to have fun than get to every bar. These are all excellent rooftop bars with incredible views of SAN DIEGO'S, but if you're loving the vibe and want to stick around longer at a particular place you can always trim one or two from the list. Also, reservations are rarely required and dress smart and sexy.
If you are looking for a specific company to plan your club hopping adventure try Club Crawl San Diego. With Club Crawl, you pay a single admission fee and get your wristband to get into 4 of the city's hottest clubs (the club lineup changes each week). At each club, you get a complimentary drink. The Club Crawl host announces when it's time to move on to the next club, and they're all within walking distance in the Gaslamp Quarter. It's a great way to see the city's clubs without waiting in long lines or paying a bunch of different cover charges.
DANCE CLUBS
(most clubs are a 10-minute walk from each other)

454 Sixth Avenue
Fashionable nightclub boasts rooftop cabanas, a pulsing dance floor & chic modern lounge area. Spyglass Rooftop Bar. They have one in Vegas and the roof makes it really impressive.

615 Broadway
PARQ Brought together the leaders in the restaurant and nightclub industries to bring you an unparalleled nightlife experience. Parq is a large club and filled with plenty of "good" trouble.
919 Fourth Avenue
If you are into the MUSIC Bassmnt offers the most bang for the buck. Be sure to check their DJ list for your night in question. Bassmnt offers many niche DJ's that aren't mainstream but popular niches.

500 Fourth Avenue
Fluxx is in a constant state of "flux". They change their theme and design of their club often. It's never stagnant for sure. Downtown San Diego's longest celebrated dance club

207 5th Avenue
Rooftop Nightclub and Daytime Pool Party (Day Party) on weekend. Great place for holiday parties because they open up all the hotel's conference rooms and ballrooms.
BARS OR LOUNGES
BARLEYMASH

600 Fifth Avenue
Sports TV & DJs accompany visits to this mod spot, known for craft beer, bourbon & flatbread pizzas.
ONYX ROOM

852 Fifth Avenue
From hip-hop to house, eclectic DJ-spun beats fuel this sleek subterranean nightspot. This club has different music types during the week and is smaller than the larger clubs. Great to meet new friends.
MOONSHINE FLATS

344 Seventh Avenue
This vibrant venue with country-western line dancing, live music & DJs offers a full bar & kitchen. Yee Haw!
207 (Hard Rock Hotel)

207 5th Avenue
Hard Rock's personal hotel bar that is packed with every premium liquor from all over the world.
SIDEBAR

536 Market Street
A smart spot where fashionable types groove to DJ-fueled beats & sip specialty drinks on velvet sofas. Is considered more of an ultra-bar but it's a good place to check out between clubs.
T-Minus 46 hours (12 PM Brunch – Rise & Shine! Brunch & Pool Party)
THE WEREWOLF
627 4th Avenue
Be sure to ask for their Breakfast Burrito.
HARD ROCK HOTEL
207 5th Avenue
Pool Party: Sunburn on top of the Hard Rock Hotel at Float Saturday's For the best pool party/day parties in San Diego check out the Thrillist
Not into pool parties! If pool parties or day parties aren't your "bag" we suggest something a bit more exhilarating. We have tandem and solo skydiving packages for those who have a need for SPEED! From our friends at PACIFIC COAST SKYDIVING.
Just imagine jumping out of a plane at 15,000 feet with perfect views of the ocean. Witness the actual curvature of the earth as you reach speeds of over 100 mph!
Not into skydiving? Well, who doesn't love golf? San Diego has over 60 golf courses and easily the best weather in the country. SanDiego.org has a great list of golf courses you should explore.
Deep Sea Fishing? Make sure you have your Dramamine or make sure everyone in your party isn't susceptible to motion sickness. Your poor friend will have the worst weekend of his life! We recommend GUARDIAN CHARTERS for deep sea fishing.
T-Minus 43 hours (3 PM Cigar Heaven)
GRAN HAVANA CIGAR & HOOKAH LOUNGE
745 Fourth Avenue
Get any cigar-related questions answered by experts in 3-piece suits and choose a souvenir so you can reminisce about your amazing bachelor weekend at a later date. Also, don't be afraid to share a hookah.
T-Minus 37 hours (9 PM Sex Store)
HUSTLER HOLLYWOOD
929 Sixth Avenue
This bachelor party favorite is just a few blocks from where you are now, so it's only logical you go check it out. In addition to typical novelties, you might run into a Bachelorette Party or two. Don't skip the gift shop- it's the holy grail of gag gifts. This is a great idea since you might want to hook your "Boy" up for the next little venue
T-Minus 36 hours (10 PM Dancers)
CHEETAHS
8105 Clairemont Mesa Blvd
Cheetahs is a smaller venue but the dancers are 100% nude but there is a no alcohol policy in the club. Fortunately, the club owns the Sports Bar the Bullpen 30 ft next door and don't mind you going to both establishments.
PACERS
3334 Midway Drive
Pacers only topless but are much closer to and have some great food from their chef in back.
Lastly, don't waste your money on private companies who arrange private dancers. You will be waiting for 2 hours for them to show up. When the finally arrive it will remind you of some 60's horror movie. Lastly, you will wonder where $1000 just disappeared. Pacers and Cheetahs will have over 50 fifty professional dancers at a tenth of the price. If you are still inclined to more erotic entertainment? Adelitas in Tijuana, MX has everything you could imagine without losing a couple grand.
We drive bachelor parties to the border only. From there it is a quick cab ride anywhere in TJ. Please stay out of trouble and don't flash any money around. Also, wearing expensive clothes or watches will definitely get you flagged by nightclub employees. Nightclub staff is notorious for tipping off the Police to do a "shakedown" and collect all your valuables. TJ does have laws against consuming alcohol in public or in the street. Believe me. I know!
T-Minus 24 hours (10 AM Brewery Tour)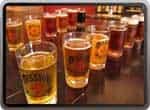 San Diego Hotlimos provides the cities best San Diego Beer Tours. Check out 3 or 4 local breweries scattered throughout San Diego in their State-of-the-Art party buses and limos with satellite T.V. so you don't miss the big weekend games.
Hotlimos also offers Temecula Winery Tours. If your Bachelor Party is interested in math or statistics. We suggest checking out our wine tasting tours. At least 80% of wine tour guests are women and a multitude of bachelorette parties. Unfortunately, brewery tours are 65% mostly men. Check out some great Temecula Winery Tours here.
T-Minus 19 hours (3 PM Food)
San Diego has two great places that garner national attention for their BURGERS! Hodad's and Rocky's, have been in this great city for over 40 years and have been fighting for the top honor of having SD's best tasting burger. We will hopefully point you in the right direction with these great stops for an empty stomach.
Hodad's
has two great locations (downtown & Ocean Beach) and has had national attention. Their small restaurants usually have a line and you should always include 15 to 30 minutes of waiting time. Thankfully the burgers are delicious and generally include a smile on a happy belly afterward. The wait is well worth it!
Rocky's
3786 Ingraham St
Is a "Dive Bar" in Pacific Beach that is well known in the beach community to providing stiff drinks and yummy, thick burgers. The location is tight with a big crowd but with 5 to 10, it might be worth the stop! If you plan to head down to Pacific Beach stopping here is a good idea for non-commercial prices. If you head further down to the ocean you will have higher prices but more "things to look at."
If more "things to look at" sounds right up your alley head down to the ocean and check out:
Firehouse
722 Grand Avenue
Rooftop bar/restaurant that usually had day parties on the weekends with live DJ's spinning house/eclectic tunes.
Backyard Kitchen & Tap
832 Garnet Avenue
The owners really went to town with the decor but it gets a bit pricey. I guess they think higher prices keep the riff-raff out. Still a great place for evening festivities.
PB Ale House(across from Firehouse, next to Shore Club)
721 Grand Avenue
Sports bar with rooftop casual dining.
Shore Club (next to PB Ale House, across from Firehouse)
4343 Ocean Blvd
Great view of the ocean and have some pretty great drinking specials. Many locals call this place home!
Barrel Republic
1261 Garnet Avenue
PB's Best Place to drink BEER!
T-Minus 15 hours (7 PM Dinner)
Buca Di Beppo
705 Sixth Avenue
The restaurant is great for large parties with their family size serving portions. The food is easily four stars! The dishes are unique, expertly prepared, and incredibly flavorful. Definitely, try the Lasagna. For dessert, the Tiramisu.
T-Minus 13 hours (9 PM Comedy Club)
Mad House Comedy Club
502 Horton Plaza
No cover and no drink minimums! Just relax and reflect on your perfect San Diego Bachelor Party.
T-Minus 10 hours (12 AM Gentlemen's Club)
Done relaxing? The bachelor party isn't over yet. Walk up and down 5th Avenue and mingle with the crowd. Stop in for shots at OVER 30 different bars and saloons!
Rent the bus for 5 hours – Go anywhere in San Diego city limits – Drink on the bus if your budget is at a minimum – Stop at local bars or local strip clubs.

(club admission not included but discounted)
| | | |
| --- | --- | --- |
| Passengers | Sun – Thurs (5 hours) | Fri – Sat (5 hours) |
|   5 – 12 Pass | $400 | $500 |
| 10 – 17 Pass | $425 | $575 |
| 15 – 40 Pass | $550 | $800 |
Try including your bachelorette party and wedding transportation and save at least 10%!