SAN DIEGO BEER WINE SPIRITS TOURS
PARTY BUS TASTING TOURS
---
San Diego Beer, Wine, & SPIRITS Tours with Party Buses are a new CRAZE in San Diego. No longer are the days of being trapped on a Party Bus with no interest of where you are going. These drinking tours are perfect for any weekend day (We offer big discounts during the week excluding holidays)
Now what sets us apart from the competition is our dedication to keeping our prices affordable (generally $15 to $35 p/p for a 5-hour tour). Also by offering more Luxurious party buses, you will experience State of the Art Air Conditioning Systems, visual entertainment, and a sound system you wish you had in your car.
Picture this….drinking in ninety-degree weather, touring Southern California, trapped in a box with 30 to 50 people dancing with 100.00-degree body temperatures? Heck no! With our massive A/C units on our vehicles, you will want to bring a small jacket and leave the sweating at home.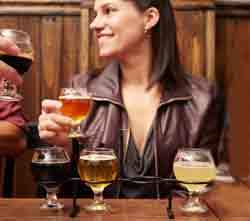 Hotlimos provides luxury Brewery, Winery, Distillery Tours all of San Diego and Temecula. In fact, many other cities include a winery and/or brewery or two. Some great places to keep in mind are El Cajon, Alpine, Ramona, Oceanside, and even Escondido. Just call us and we can figure out the best opportunity for and your guests to experience the BEST of Southern California.
We usually recommend spreading your stops out in distance. By spreading them out you won't have half drunk drinks sitting in the bus getting watered down or flat. Real Alcohol abuse comes when you are pouring out your watered down drinks! Secondly, it's wiser to start inland and work your way to the coast due to the temperature becoming warmer during the day and the cooler temperatures closer to the coast.
San Diego Hotlimos and Party Bus offer's you and your guests an affordable alternative to ALL INCLUSIVE tours which sell you a cheap cup and bunch of tickets that you will never use, mostly because most of the beer and alcohol you consume will have been brought to you at the time of pickup. Lastly, don't bring too much alcohol because chances are we will pass 50 stores during the day and we wouldn't want you to throw out your back or our drivers with a cooler the size of a Volkswagon.
Party Buses and Limos to fit your group size. Our newest and best vehicles range in size from 50 passengers to 15 passengers. We also have our affordable line: H2 Hummer and The Rockford. They are both comfortable with 18 passengers and come packed with A/C as well.
San Diego Hotlimos would like to remind you that alcohol is a drug and adverse reactions can occur if consumed in large qualities. Please be responsible for your actions and not ruin a great time for you and the others in your party.