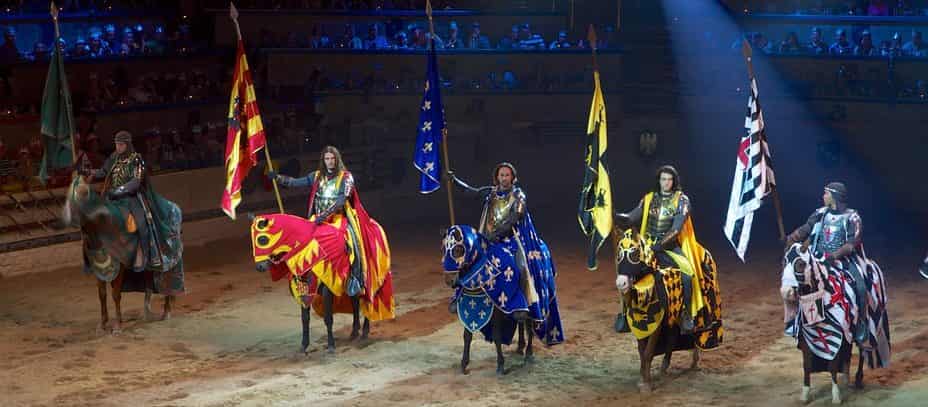 MEDIEVAL TIMES & PIRATES ADVENTURE
DINNER THEATER PACKAGES
---
Where's a Dinner Theater by me? Well, San Diego Hotlimos works some of the best Dinner Theaters around. Everyone has heard of Medieval Times but have you also heard of the Pirate Adventure? Get your friends or coworkers all together for dinner, suspense, excitement, and fun! Take a party bus to some of Southern California's best entertainment.
Dinner theaters provide all the excitement and food one could possibly imagine. Just make sure that everyone gets there safe in sound in one of our party buses. These dinner events are for all age ranges and group types. Don't think you are too old or kids are too young. I would embarrassingly compare it with watching professional wrestling. An excellent time when spirits and brew are at hand. Feel free to call us with all and any of your questions.
Any of these fine presentations will leave you with something to talk about for a lifetime. Another great thing about the Anaheim presentations is that they have multiple shows. You are pretty much guaranteed to see something different every time you go. Believe me, I know!
The Dinner Detective
San Diego, Ca
(Voted 2007 Best Dinner Show: Good Morning LA, FOX 11, and Good Day LA.) The Dinner Detective is an Award Winning Interactive Comedic murder mystery set in present day.
No costumes because the performers are dressed like everyone else, leaving all of the guests to suspect who is a part of the show and who is not. In many instances, guests are seated with performers and don't even realize it until they die (the performer that is). Detectives proceed to interrogate everyone and find clues as more people die. At the end of the night, prizes are awarded to the guest who solves the crime.
Each Murder Mystery Admission includes: Optional Self or Valet parking, a cocktail interrogation reception, tray passed hors-d'oeuvres, fresh Italian bread, a mixed baby greens salad, your choice from four succulent entrée's, your choice from three delectable dessert's, free refills on all non-alcoholic beverages (once beverage is purchased), coffee after dinner, full cash bar, wait staff gratuity, prizes for the sleuth who solves the crime, an original four-act murder mystery performance and optional after-show musical entertainment.
I was really surprised by this performance and recommend this to anyone who likes a good mystery and to use their head! Have fun.
Medieval Times
Buena Park, Ca
Watch knights club each other to submission and eat chicken with your bare hands! Two great aspects that make Medieval Times Dinner Theater a great idea for friends and family.
Medieval Times is located in Buena Park about a few miles from Knott's Berry Farm and Disneyland. I highly recommend it to all who go. Medieval times has a little bit of everything! Great action, beautiful talented horses, and horsemanship, good storyline, and it's all PG rated for the entire family.
The only thing I can say bad is that my friends and I probably regressed about 30 years during and after the show for about 2 days until the effects of the show wore off. Also, the meal was excellent! My friends and I felt that the chicken meal was great. Also, they have special meals for special diets.
Click here for Dinner Packages for Medieval Times
The Pirates Dinner Adventure
Beuna Park, Ca
A little swashbuckling with a song, a laugh, and some pretty good acrobatics. Grab the kiddies and a mug of your favorite frothy beverage because there is trouble in port!
If you've already seen Medieval Times, I would recommend a little of the high seas too. I would rate this adventure pretty high but I still like Medieval times a step better. I find kids might find this more appealing because of the slapstick-like comedy and songs. They also have special diets if need be. The best part is they have discounts for groups! Take a look at the Pirate's Adventure website for Deals!
Don't miss out on these great times! You won't ever forget it!