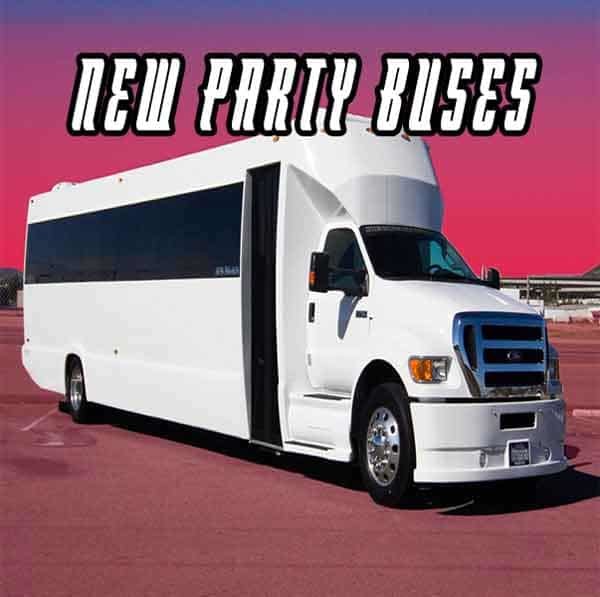 San Diego Party Bus Rental
Hourly and Charters
---
San Diego Hotlimos has a party bus in San Diego for you! Everybody knows that party buses are the new craze! Why pay more and get LESS, when you can have it ALL in one big bus? All of our party bus rentals come with more than our competitors! Just take look inside one of our brand new luxury party buses.
We Put The Party In Bus
Extra large dance floor
Safety handle bars throughout
Seat belts
Personal bar
LCD monitor
Dance Floor
These vehicles are perfect for any San Diego Birthday party, graduation party, kids limo or any other necessity for using the best party bus company in San Diego. Please don't forget we also rent stylish limousines as well.
They cost less! Stretch Limos cost an additional $30,000 to stretch them out. Buses come long and tall!
You can dance, walk around, snack bar, restroom, talk with all your guests and they talk to everyone else.
The "Fun Factor" is through the ruff and adds a bit of mischievous to any age group.
They are accommodating to all your needs.
They provide more bang for the buck! More lights, better stereo equipment, big screen TV's, and much more!
Larger A/C units!
You won't get claustrophobic or less likely to get car sick.
Why rent a party bus, because they provide extra aisle space, larger dance floor, restrooms, more amplifiers for greater sound, more lasers for enhanced presentations, and lets not forget the fun. Today's party bus rentals come loaded with all the amenities of a traditional limousine except you can stand up and dance the night away, move around, make drinks, relax, tailgate, group parties, company parties, wedding parties, school dances, wine tours, and did I mention you don't have to crouch over just to get in and out.
Don't let the word "Party" ruin your idea of what a "PARTY BUS" or "LIMO BUS" can bring to your group event. Our vehicles are very elegant and an affordable way to transport your guests with luxury and comfort. Having more room in a PARTY BUS easily trumps smaller stretched limousines. Before you get your vehicle make sure you explore all of your options before you book your vehicle today! Ask any of our customer service representatives the difference today.
A party bus can come in many sizes and styles, but more importantly it's the money you save! How can this be? A typical limo conversion costs anywhere from $30 to $50 grand. A typical bus conversion is half that, but exponentially increases the time your guests will have. Give us a call (619)800-5468 so one of our reservationist's can explain the differences and advantages for renting one of our fine discount party buses.
San Diego Limo Bus
provides you with exceptional quality, comfort and value in transportation & luxury for your event! Give us a call and allow us to tell you the benefits of taking a limo bus or a San Diego party bus for your next event. In fact you will have more fun in our professionally driven limo bus than in the club or company party, but don't take our word for it.
One of our best ideas with your own personal limo bus is to skip the downtown crowd and aim high! We mean, really high….as in North County. North County Booze Cruise offer everything your party needs: fun, smaller venues, your own sanctuary parked in front, with $5 drinks! You will save at least 3 to 500 hundred dollars and your group will stay together and be able to actually hang-out! Ask us about this great group party idea. You will thank us afterwards. 
San Diego Winery Tours
Wine Tasting Tours and limo buses have been a staple to the San Diego Community the past 10 years! Temecula winery tour and San Diego Winery Tours offer some of California's finest wines just in San Diego's backyard. Make sure you ask us which wineries are right for you, and we will make your wine tasting experience go down as a great moment among you and your closest friends. 
San Diego Brewery Tour
Well not everyone loves wine. In fact, just for that reason San Diego Breweries has just sprouted as one of the United States best and biggest micro-brewery capital. The past four years have put San Diego on the map for BEER and beer tours! We are happy to do brewery tours Monday through Sunday and offer great discounts on those weekday days. We also have all inclusive packages but if you are looking to save money just ask about our basic tours.
The best way to see a concert is getting their first in one of our San Diego limo buses. Just imagine all your closest friends partying and drinking to your favorite songs before you get there. In fact we have such killer buses that your limo bus will turn into a tailgating fortress, with outdoor party speakers, a deluxe BBQ grill, lawn chairs, and a regular party that anyone parked within five blocks will want to attend. We also specialize in Chargers Tailgating Bus Parties.
Give us a call so one of our team members can put you into a beautiful memory that will last your whole life. We have ideas you wouldn't have even considered regarding party bus and limo bus tours in San Diego.
Why get bottle service at the club when you can get bottle service plus a lot more: Transportation to and from your event, affordable beverages, an intimate evening, endless possibilities, and most importantly, getting your best friends together. In fact grabbing a limo bus may even save someone's life!
Every question is important to us. Feel free to use the form to the right or just give us a call from the number above. We are able to help you up til 10 pm on most weeknights.