BEER TOUR LIMO & PARTY BUS 
---
The best part about being in San Diego is all the damn BEER TOURS & BREWERIES!
Brewery Tours in San Diego have been extremely popular with all of our customers. We are one of the Top 2 Party Bus Companies who provide Luxury Party Bus Beer Brewery Tours in the Sun!
Our most popular beer tour limo allows YOU to CHOOSE each brewery you would like to attend (Perfect for Groups who are concerned about drinking).   When you get to each of the breweries you can easily purchase all 4 oz tastings from the attendant. Make no mistake this is the easiest and most affordable way. Also, it prevents you from being suckered into an ALL-INCLUSIVE package that "tie your hands" to which breweries you can attend and how long you can stay!
Imagine having to prepay for drinks at nightclubs before going out. Doesn't make sense…does it! Also, many breweries may be overcrowded and you are stuck there in their crowded beer tasting room trying to use all of your tickets. (Please remember there will be plenty of drinking on our bus or limo, so please pace yourself so your friends are not calling you a "Rookie" by the end of the night.)
SAN DIEGO DISTILLERIES
If you are interested in Distilled Spirits Tours we can also point you in the right direction. San Diego has come up with some great places to enjoy SPIRITS at local distilleries. Check out some of these great San Diego Micro-Distilleries in this great article by Thrillist.com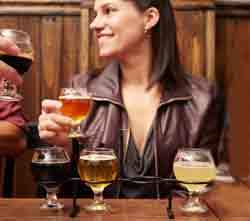 Save big bucks by planning your brew tour on Sunday through Friday! Call for details and don't fight the lines or rowdies!
San Diego County has breweries scattered across most of it but most brewery tours are located in three separate areas: coastal, Mira Mesa, and San Marcos. We can definitely steer you in the right direction with cost and length. Give us a call so we can explain the finer aspects of beer tasting and brewery tours of San Diego.
Keep in mind we also do a GRAND BARGAIN! Wine Tour and Brewery Tour in ONE! Split your trip up and start or finish with a Brewery Tour and Head to Temecula before or after. You can't go wrong and you are destined to make someone in your party happy with the decision.